1. Log in to the Sync Dashboard. You should see the new nag at the top alerting you to set up two-factor Authentication. Click the "Setup Two-Factor Authentication" button.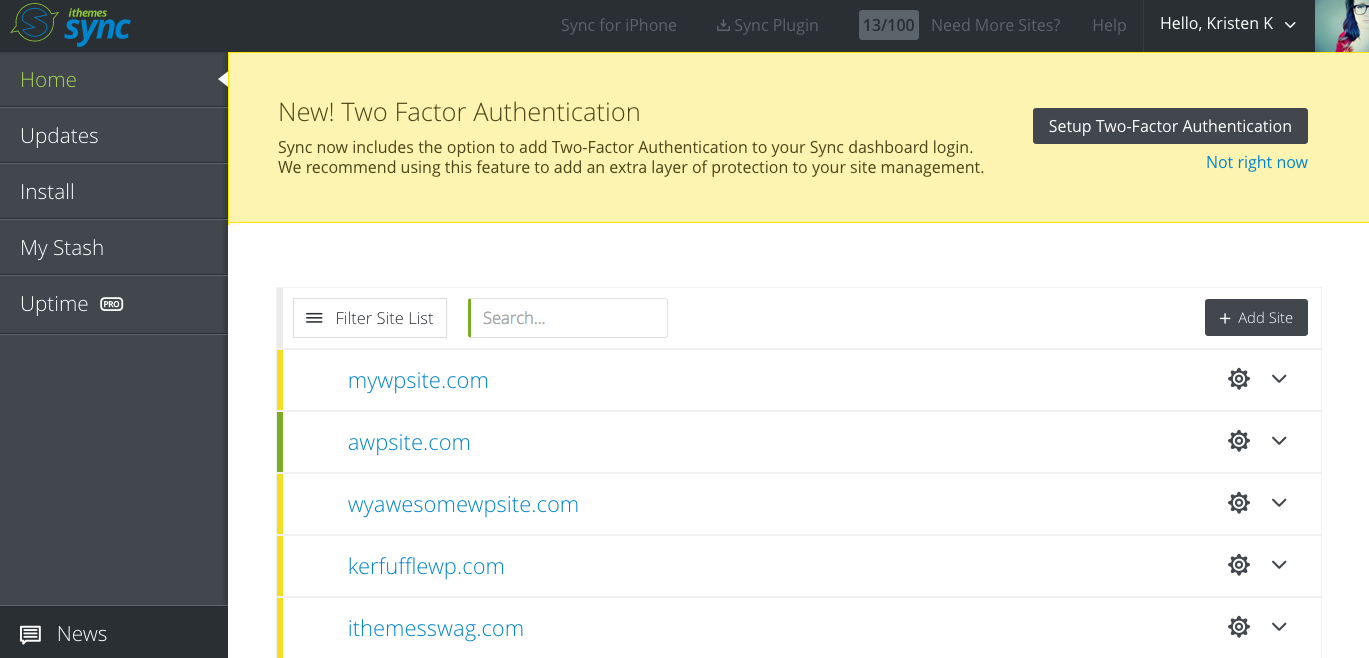 Note: You can also set up Two-Factor Authentication for Sync from the Settings Page located in the top nav below your name or from this direct link. 
2. From this page, check the "Enable Two-Factor Authentication" box.
3. Add your phone number to send the two-factor Authentication SMS and then click "Save Two Factor Authentication Settings."
4. Once you click save, you'll immediately see a box to enter a code sent to your mobile device. Enter this code and click "OK."
5. Now, the next time you log in to Sync, you'll be prompted to enter the authentication code sent to your device after you enter your username and password to log in.
How to get Two-Factor Authentication Backup Codes for Current Two-Factor Authentication Users
If you already have two-factor authentication activated for Sync, you will not have to reset anything or change anything in your existing two-factor setup.
Just navigate to the Account > Settings page and then click "Get your backup code."
Sync will then give you a two-factor authentication backup code to store in a secure place.
How to get Backup Codes For New Two-Factor Authentication Users
Once you confirm the initial two-factor code, you'll see your two-factor backup code.
Logging In Using Your Two-Factor Authentication Backup Code
If you no longer have access to the mobile device or the phone number associated with your two-factor authentication settings in Sync, simply paste your backup code into the Authentication Code login screen to log in.
Just keep in mind this code will expire after the first use. You'll need to get your new two-factor authentication backup code and store it in a secure place for future use.